December
Theater and Opera Schedule Broadway shows
Things to Do in New York In December
New York is so beautiful in December - feel the holidays atmosphere everywhere! Enjoy fantastic windows of the famous department stores such as Macy's and Saks, but stop by at any shop in New York and you will see the masterpieces they created for the holidays. Gray Line's Night Loop tour turns into Holiday Lights tour and you'll be able to see all the lights and illuminations of New York, including the Christmas tree at the Rockefeller Center. And if you feel like you want a special experience in New York in December, why not go to one of the skating rinks (you can rent everything you'd need there): Bryant Park, Rockefeller Center or Central Park - what a great way to celebrate the end of the year. Radio City Christmas Spectacular, Aladdin, The Phantom of the Opera, Stomp and so many other Broadway performances are available in December.
Places to celebrate Christmas and New Year's Eve - restaurants
If you are looking for restaurants to celebrate Christmas and New Year's Eve in New York, OpenTable has a great summary list of the best restaurants, clubs and bars in New York. Please don't delay making a reservation - you can do it online, right at opentable.com
Christmas in New York
New Year's Eve in New York

Christmas Spectacular Starring the Radio City Rockettes
The Radio City Christmas Spectacular stars the world famous Radio City Rockettes in an unparalleled show featuring the Rockettes' signature eye high kicks, precision choreography and exciting show stopping numbers.
Christmas Tree at Rockefeller Center
Visit the Christmas tree lighting ceremony at Rockefeller Center! Decorated with a Swarovski star, thirty thousand garlands and lanterns, it is the main Christmas Tree of the City.
Please check the dates and details on the Rockefeller Center website. If you cannot attend the opening ceremony, just visit the Rockefeller Center during your stay in New York in December. In addition to the Christmas tree, there are many interesting things to do: a skating rink, restaurants, shops, and of course, Top of The Rock observation deck.
Holiday Windows
Starting late November the stores of New York City decorate their windows for Christmas celebrations. This tradition has existed for many years. In addition to creating a festive mood among the residents and visitors alike, it is a sort of unspoken competition between the department stores: whose windows are more creative and more beautiful.
The windows are really extraordinary. Large department stores spend huge budgets to create a festive world in a window. Enjoy the storefronts as you walk through the main streets of Manhattan. It is worth paying special attention to Lord&Taylor's (Fifth Avenue and 39th street), Macy's (7th and 34th), Bloomingdale's (Lexington and 59th), Saks Fifth Avenue (Fifth and 61st), Barney's (Madison and 60th) and Tiffany (Fifth and 56th).
Holiday Lights tour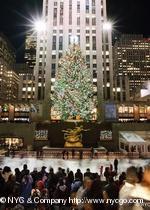 Gray Line New York invites you to the Holiday Lights double-decker tour, to revel in the festivities that make New York the fun capital of the world at this time of the year. Times Square, Laser Light show at Grand Central Terminal, Macy's, Lord & Taylor, Fifth Avenue, Central Park, Bryant Park, the world famous Christmas Tree at the Rockefeller Center, Radio City Music Hall, Time Warner Center, Tavern on the Green, Trump Tower and St. Patrick's Cathedral are some of the sites along the tour route.
Learn more and buy tour online
Hanukkah
The World's Largest Menorah is located at Grand Army Plaza. Admission is free.
New Year's Eve Celebration
More than a million people go to Times Square to celebrate the beginning of the New Year: the crystal ball starts descending one minute before midnight, and when it reaches the ground, the scoreboard lights up with the four digits of the new year. Many people arrive as early as in the morning of December 31st to be able to get a good spot before the area becomes too crowded. Security is very strict: no backpacks or bags are allowed, and everything you might need has to fit into your pockets. It is usually pretty cold, so it's best to wear clothes in "layers" to feel comfortable and not to get hypothermia. The nearest restrooms are in Port Authority Bus Terminal, 8th avenue and 42nd street, but the line will be so long that you risk to miss the ball drop and the actual onset of the new year. Also please keep in mind it is unlikely you will be able to come back to your original spot - you'll need to go through the security check one more time, and the crowd is so tight that the chances of returning to the same place are minimal. If you do decide to go to Times Square to celebrate the New Year, put sandwiches in your pockets, drink less liquid, put on more clothes - and you will have a lot of fun. Want to make a wish? Write it down and leave the day before in the tourist center in Times Square, or leave it online. Millions of cards with New Year's wishes will be scattered like confetti on the New Year's Eve on Times Square.
Top